Nowadays, there's a plethora of viewing options for the average football fan to choose from. In addition to BT and Sky, a select number of Premier League games are being broadcast on Amazon Prime. Recent years have also seen the finals of major club competitions such as the Champions League and Europa League stream live on YouTube.
Despite its increased prevalence in a post-COVID world, streaming — especially with younger fans — became the preferred choice for audiences long before the pandemic. This has led to numerous sporting organisations exploring opportunities to further monetise their rights in this "Golden Era" of content, while streaming platforms aim to use live sports to fight off competitors.
In efforts to effectively capture and monetise fan/viewer data, some leagues and regional networks have also looked into launching their own platforms. However, the developing relationship between sports organisations and streaming providers may come at a price for fans already overwhelmed by the increasing number of viewing alternatives.
To explore fan sentiment, professional analytics & accounting firm Deloitte recently surveyed over 300 sports fans from the US. With 53% of respondents having paid for a video streaming service to access sports in the past year, Deloitte's findings revealed that fans do crave and are keen to pay for content.
However, others were irritated by their experiences. 49% of respondents felt weighed down by having too many subscriptions, 62% felt frustrated because they couldn't figure out which platform to choose, and 54% actually missed events they wanted to watch because of those difficulties.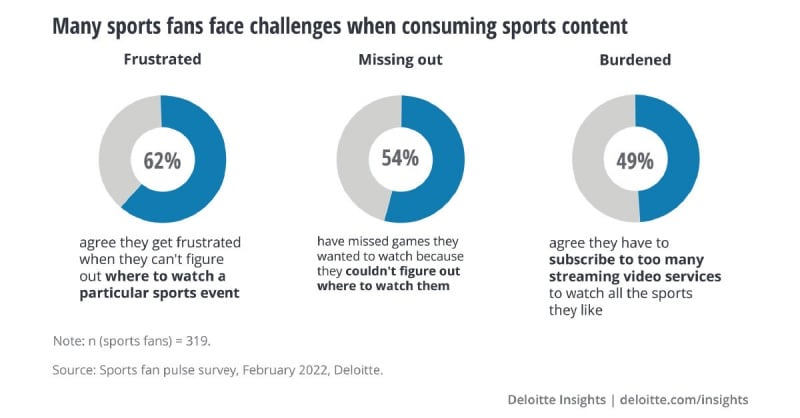 Deloitte's insights show that not only isn't there a universal solution for a global audience, but also represents how Sport Buff — an award-winning leader in gamification and on-screen engagement — can capitalise on this unfolding future.
"What Sport Buff does is unify your experiences. Even with the daunting prospect of having to pick from a multitude of streaming services, you're able to be a part of the action by earning points and competing against friends and other fans, while building up your profile in more than one place," explains Sport Buff CEO and co-founder Benn Achilleas.
"Even as the market fragments, the fans can still trust in the ability of Sport Buff to be able to unify their fandom across multiple content providers, therefore creating a reason to choose one platform over another. The providers that have Sport Buff integrated allows me to continue collecting points and playing against my mates, whereas I can't do the same on another streaming service."
Looking ahead, we're likely to be years away from a "one-size-fits-all" answer for the entire fanbase, but it's clear that Sport Buff's innovative interactivity would go a long way in helping fans unify their viewing experience.