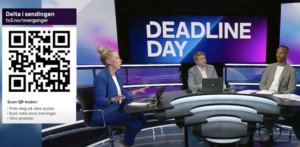 London, September 2023 —
TV 2, renowned as the major broadcaster and media provider in Norway, worked with Sport BUFF, the award-winning and leading interactive fan engagement platform to enhance their football Transfer Deadline Day content with unprecedented interactive viewer experiences. The partnership transformed the ways fans watched and engaged with TV 2's extensive coverage across both the domestic Norwegian Football Premier League on the 31st August and the wider European Leagues (English Premier League, La Liga, and more) on 1st September.
Transfer Deadline Day on TV 2 gave viewers access to interactive graphics (buffs) for real time Predictions, Player Ratings, Polls, Votes, Quiz, Trivia and live Chat. This comprehensive engagement package empowered TV2 to deliver unparalleled results as their audience had their say on all the day's dealings, feeling part of the show, all the time earning points as they played and competed to top the league. Over 80% of viewers that saw the 'buffs' chose to interact and play along with the drama of the day's broadcasts like never before.
This activation follows on from TV 2 and Sport BUFF working together on Qatar 22 coverage, and the successful work Sport BUFF delivered with Sky Sports during the January "Winter Window" in the UK. Both Sport BUFF and TV 2 are committed to continuous innovation and pushing the boundaries of interactive broadcasting.
Tore Rørtveit, Project Leader, TV 2 says: "Our objective is always to create the most compelling sports content for our audience, and that means using the highest production values and innovation with the best partners to deliver our vision. The way Sport BUFF enables the audience to participate was proven in our Qatar 22 coverage and following on we saw equally high levels of engagement across all our Transfer Deadline Day drama"
Benn Achilleas, CEO, Sport BUFF said: "We were delighted to evolve the coverage of one of the biggest moments in any football fan's season with our shared vision of enhancing the viewing experience. We transformed the Deadline Day experience from passive to active. How did you rate that transfer, will the deal get done, was that player value for money? Sport Buff broke the fourth wall and allowed real time input on all those questions and more."
The partnership between Sport Buff and TV2 delivered 15% of the total audience into the interactive experience, extending the watch time by 300%. Trivia questions proved the most popular engagement on both nights, while the interactive audience doubled from the domestic deadline day broadcast to that the following night which concentrated on the big European Leagues.
About TV2:
TV 2 is a commercial Norwegian broadcaster headquartered in Bergen and providing free-to-air channels, pay channel and Digital services as: TV 2 Play (OTT) and tv2.no. Core is: News, Sport and Program. TV 2 is known for many tech spin-offs like: Vizrt, Mosart, Vimon, Wolftech and Electric Friends.