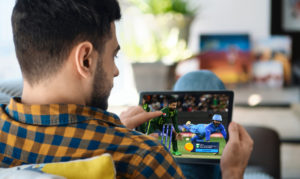 London, 29th September 2023:
tapmad, the leading Pakistani subscription-based streaming service chose Sport Buff, the award-winning and leading interactive fan engagement platform to enhance their live sports content with unprecedented interactive viewer experiences. The partnership will change the landscape of live sports coverage, providing fans with an immersive and interactive viewing experience.
For the first time in the region, sports streaming will give viewers access to live predictions, polls, votes, quiz, trivia, and chat directly on top of the action. This cutting-edge streaming technology will allow the audience to get their voice heard, to show how much they know about the trajectory of the game and even rate player performances all the while earning points. These points can be redeemed for special offers and rewards. Sport BUFF is proven to increase watch time and fan engagement with the audience while opening up brand new broadcast inventory for sponsors and advertisers alike.
Jonty Whitehead, President of Sport BUFF, expressed "Our mission at Sport Buff has always been to create memorable, interactive experiences for audiences worldwide and allow Broadcasters to retain, engage and monetise their audience. We are honoured to team up with tapmad, a network synonymous with broadcast excellence, to take cricket coverage to the next level in the region."
Yassir Pasha, CEO of tapmad, expressed "The future of sports broadcasting is interactive, and tapmad is thrilled to be at the forefront of this evolution with Sport Buff. By integrating interactive features into our live sports coverage, we're not just showing matches – we're creating an immersive experience that brings fans closer to the action than ever before."
The partnership between tapmad and Sport BUFF kicked off recently is set to continue throughout the upcoming regional sports season. Sports enthusiasts, both casual and veteran, can look forward to an unprecedented level of interactivity and engagement that will redefine the way they experience the sport, before the interactive experience expands across other tapmad portfolio of rights.
About tapmad:
Operator of a subscription-based live and on-demand video streaming platform intended to provide access to various entertainment content. The company's platform offers entertainment content across multiple languages, major sports content including live coverage of all major sporting events, originals, and a huge catalogue of hit TV series and blockbuster dubbed productions, with features such as seamless streaming, an ad-free model in HD quality in a user-friendly interface, providing customers with a variety of entertainment content to enjoy at an affordable price.