London October 2023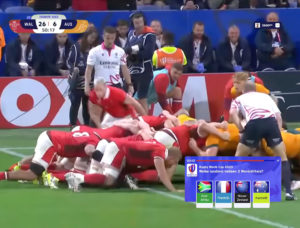 LONDON & HILVERSUM – Ziggo Sport, renowned as the most versatile sports broadcaster in the Netherlands, has signed up Sport Buff, the award-winning and leading interactive fan engagement platform to enhance their content with unprecedented interactive viewer experiences, starting with the Rugby World Cup. The partnership is set to transform the ways fans watch and engage with Ziggo Sport live sports content. Using Sport Buff's award-winning interactive video technology to enable a series of 'buffs' – interactive graphics displayed over the action on-screen – helping to entertain, inform, and provide an extra level of experience for viewers. Ziggo Sport will use buffs specifically for live predictions, and player performance ratings, whilst viewers compete and chat on live leaderboards, over the Rugby World Cup 2023 coverage.
Marcel Beerthuizen, Director Ziggo Sport commented, "We are thrilled to partner with Sport Buff, to enhance the Ziggo Sport Rugby World Cup experience with innovative fan experiences but also drive additional monetization opportunities with our advertising partners. Our fans frequently use streaming video and we want to offer them the best and most complete viewing experience"
Jonty Whitehead, President & Founder Sport Buff, stated, "We are very excited to launch Sport Buff with Ziggo Sport for the Rugby World Cup. Ziggo Sport is a forward thinking and innovative sports broadcaster and we are delighted to work with them as we share so many of the same goals. We are changing the way fans watch sport, and helping our partners to generate new revenue through engagement and interactive advertising.'
Sport Buff have unrivaled experience delivering global fan engagement over broadcast across significant events including the Qatar World Cup 2022 engaging over 40 million viewers, and more recently the Women's World Cup in Australia and New Zealand.
About Ziggo Sport
Ziggo Sport is Ziggo's free sports channel for Ziggo customers broadcast on channel 14. It is the most versatile sports channel in the Netherlands and offers a broad selection of international and national sports content, including football from Spain's La Liga, France's Ligue 1, Italy's Serie A, the FA Cup, the UEFA Champions League, the UEFA Nations League, as well as World Cup and European qualifiers.
What is more, Ziggo Sport offers the biggest selection of racing programmes, including Formula 1 highlights and live broadcasts of MotoGP, NASCAR, IndyCar, Formula E, DTM and many more. The programming also includes the best tennis (with tournaments such as the ATP 1000 and 500, the WTA 1000 and 500, Wimbledon, the Davis Cup, and Billie Jean King Cup) as well as all the tournaments of the PGA and European Tours, including the Majors and the Ryder Cup.